Not yet a member of the Skeuvel? Then you are now in the right place! Maybe you have already trained with us a few times and you are already sure that you want to become a member. In that case you can download the registration form directly here! But of course it is also possible that you do not yet know whether you like ice skating or one of the summer training courses at all. Are you just curious about the Skeuvel and do you want to train with us? The following headings will give you more information and we may see you soon at one of the intro courses! Do you continue to have doubts or have not all your questions been answered? Then you can always contact the board.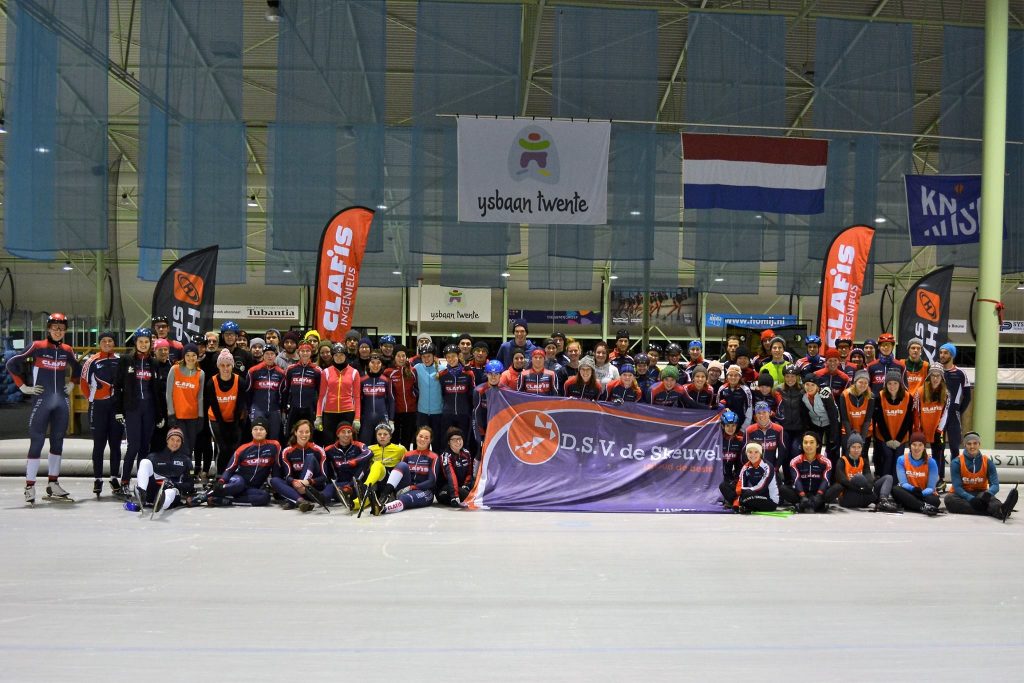 The Skeuvel can be found on the ice from October to March. We prefer to skate all year round, but because this is difficult on melted ice, we exchange the skates in the summer for inline-skates, bicycles and running shoes. Would you like to attend a training? Then there are a number of intro courses that you can join every year. Are you too late to register or have you missed the period with intro training? Then you can send an email to bestuur@skeuvel.nl.
Do you want to glide with me?! On the 9th and 16th of january 2020 the introduction trainings take place on IJsbaan Twente. We gather at 4:30 PM so you can put on your skates and after a short introduction we get on the ice at 5:00 PM. At 6:10 PM the training is over and you can warm yourself up again with a hot cup of chocolate milk. Here you can also meet the members of the Skeuvel who stay at the rink after training. We train in nine different groups, from beginner to advanced.
If you are interested to join a training, please send an e-mail to bestuur@skeuvel.nl and state here if you have any experience with skating, if you want to borrow skates and if so, what size you need. Please note: wearing gloves and a hat is mandatory.
On Mondays we inline-skate! At 7:15 PM we gather at the Utrack. Want to join? Send an e-mail to sportcommissaris@skeuvel.nl and state here if you want to borrow skates. Wearing a helmet is mandatory.
The bicycle training is given in collaboration with Klein Verzet. In three different groups we leave on Thursday at 6:30 PM from the stairs in front of the sports center. If you have a bicycle yourself, you can participate in the bicycle training if your equipment is in order. If you have any doubts about your bicycle, or if you want to borrow a bicycle, please send an email to sportcommissaris@skeuvel.nl. Wearing a helmet is mandatory. Wearing cycling-specific cloathing, in particular a cycling-short, is strongly advised.
Skating condition training
On Wednesday, we gather at 6:30 PM at the steps in front of the skating fitness training sports center. For this training you only need sportswear and fine shoes, wearing running shoes is strongly recommended. Interested? Then mail to sportcommissaris@skeuvel.nl.