Did you enjoy the ice? Become a member and receive a €5 discount!
Enjoyed skating so much and do you want more? Become a member now and join the most beautiful association in the Netherlands! Normally a membership costs €22.50 until September. Now you get a one-time discount of €5 and you are already a member for only €17.50! What are you waiting for? Register now via the register button below!
Aren't you a member of Skeuvel yet? Then this is the right place! In case you want to become a member, you can download the membership contract here . You can mail this contract to secretaris@skeuvel.nl or deliver it in the mailbox of Skeuvel in the sports centre of the University of Twente. The contribution is 45 euros for one year.
To become a member, it is mandatory to buy a Unioncard (UT-students) or Campuscard (other members) and to pay the association fee. All information about this can be found here . Do you have questions about a membership? Please send a mail to secretaris@skeuvel.nl.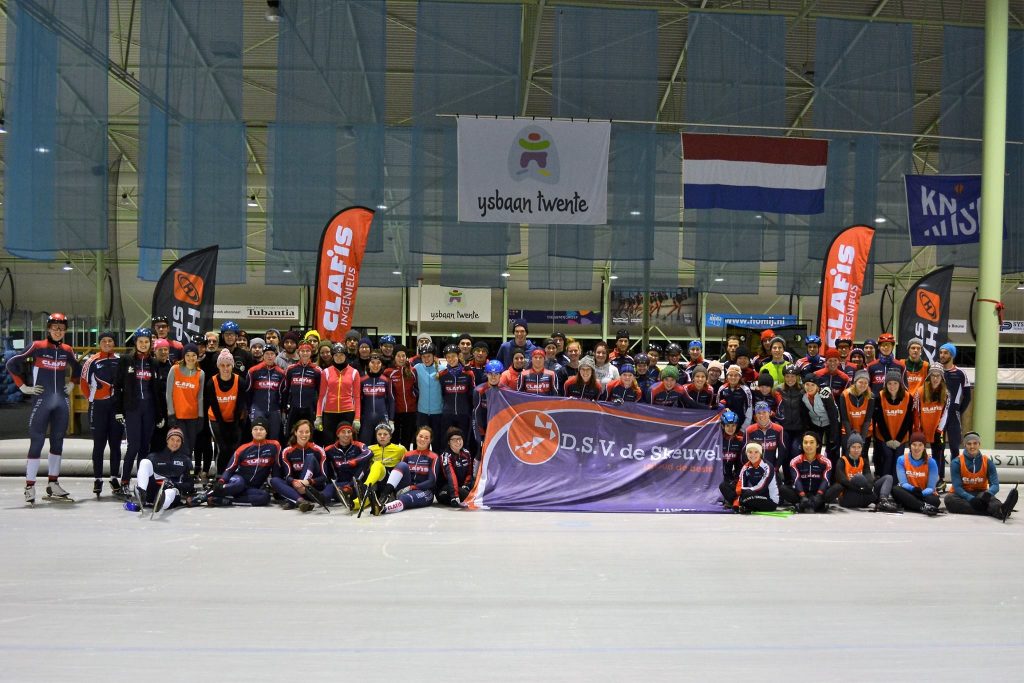 Trial membership (until October 31)
Do you like becoming member of Skeuvel, but aren't you sure yet? In September and October, it is possible to become a trial member. With a trial membership, you can become member of Skeuvel for 2 months, for only 10 euros! You can join all summer training, one ice-skating training a week and you are welcome at all Skeuvel activities until October 31. The costs of these activities are for own account. In case you want to become a member after October 31, the contribution will be reduced by 10 euros. You can find the trial membership contract here . You can send this contract to secretaris@skeuvel.nl.
It of course is also possible that you are not sure yet if skating is something for you. Are you curious about de Skeuvel and do you want to join one of our trainings? This page will give you more information. Maybe we will see you at one of our intro trainings! In case you have questions, you can always contact the board.
De Skeuvel can be found on the ice from October to March. We prefer to skate all year round, but because this is difficult on melted ice, we exchange the skates in the summer for inline-skates, bicycles and running shoes. Would you like to attend a training? Then there are a number of intro courses that you can join every year. Are you too late to register or have you missed the period with intro training? Then you can send an email to bestuur@skeuvel.nl.
Gaan wij samen glijden?! We trainen in negen verschillende groepen, van beginner tot gevorderde, wat betekent dat je altijd kan aansluiten bij een groep die bij je past! Helaas zijn er op dit moment vanwege corona geen schaatstrainingen. Wel is er een online-introtraining op 4 februari 19.30, thuis uit te voeren! Zien we jou dan ook in de Discordserver? Laat je emailadres hieronder achter en je ontvangt de link! Voor meer informatie kan je mailen naar intern@skeuvel.nl
On Monday the 31st of August and the 7th of September the cycling introduction training sessions will be held. The cycling training are given in three different groups, meaning that you can always join a group at your own level. We gather at 18:00 at the Sportscentre . Are you in doubt about your bike or do you want to borrow a bike? Send an email to intern@skeuvel.nl. Wearing a helmet is mandatory during the trainings. It is adviced to wear cycling clothes.
Skating condition training
On wednesday September 2nd and September 9th. Each wednesday, we gather at 18:30 at the square between the Vrijhof and the U-parkhotel. For this training, you only need sport clothes, running shoes and a bottle of water. Interested? Send an email to intern@skeuvel.nl.
On Thursday September 3th and September 10th the introduction trainings for the inline skating will be held. We gather at 19:00 at the Combibaan Hengelo. Do you want to join? Send an email to intern@skeuvel.nl and mention if you want to borrow skates or not. Wearing a helmet is mandatory.