Do you want to learn how to skate, or do you want to improve?
Join the student speedskating association of Enschede!
Sign up!
Aren't you a member of Skeuvel yet? Then this is the right place! In case you want to become a member, you can download the membership contract here . You can mail this contract to secretaris@skeuvel.nl or deliver it in the mailbox of Skeuvel in the sports centre of the University of Twente. The contribution is 45 euros for one year.
To become a member, it is mandatory to buy a Unioncard (UT-students) or Campuscard (other members) and to pay the association fee. All information about this can be found here . Do you have questions about a membership? Please send a mail to secretaris@skeuvel.nl.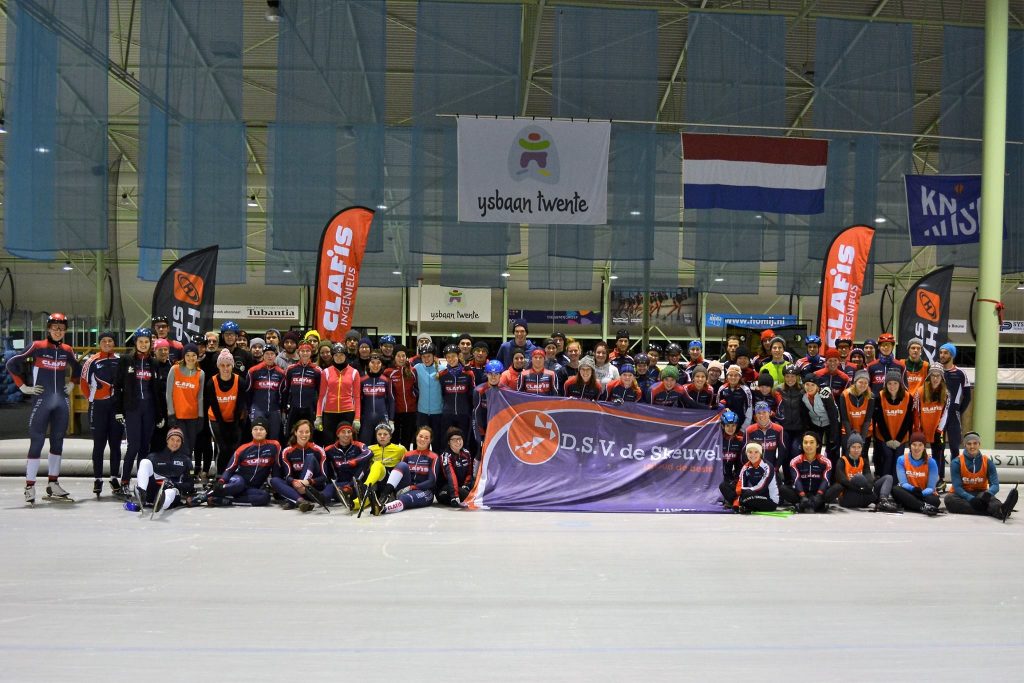 Trial membership (until October 31)
Do you like becoming member of Skeuvel, but aren't you sure yet? In September and October, it is possible to become a trial member. With a trial membership, you can become member of Skeuvel for 2 months, for only 10 euros! You can join all summer training, one ice-skating training a week and you are welcome at all Skeuvel activities until October 31. The costs of these activities are for own account. In case you want to become a member after October 31, the contribution will be reduced by 10 euros. You can find the trial membership contract here . You can send this contract to secretaris@skeuvel.nl.
It of course is also possible that you are not sure yet if skating is something for you. Are you curious about de Skeuvel and do you want to join one of our trainings? This page will give you more information. Maybe we will see you at one of our intro trainings! In case you have questions, you can always contact the board.
De Skeuvel can be found on the ice from October to March. We prefer to skate all year round, but because this is difficult on melted ice, we exchange the skates in the summer for inline-skates, bicycles and running shoes. Would you like to attend a training? Then there are a number of intro courses that you can join every year. Are you too late to register or have you missed the period with intro training? Then you can send an email to bestuur@skeuvel.nl.
Are we going to glide together?! We train in nine different groups for all different levels, so there always is a group for you! Our intro-trainings are on 14 and 21 october  Will we see you then on the ice rink? Leave you email here below, and you will receive the link to sign up! You can always mail intern@skeuvel.nl for more information.
On 6 and 13 September introduction training session will be held for the cycling training. Our training is given in three different groups Monday on 18:30 We start at the Sportscentre. Are you in doubt about your bike or do you want to lend a bike, send a mail to intern@skeuvel.nl. Wearing a helmet is mandatory. Wearing cycling-specific cloathing, in particular a cycling-short, is strongly advised.
On wednesday 8 September and 15 September are the introduction dryland training. Every Wednesday we gather at the UTrack at 19:30. You only need sports clothing and comfortable shoes, although running shoes are strongly recommended. Interested? Send an email to intern@skeuvel.nl.
On Thursday September 9th and September 16th the introduction trainings for the inline skating will be held. We gather at 19:00 at the Combibaan Hengelo. Do you want to join? Send an email to intern@skeuvel.nl and mention if you want to borrow skates or not. Wearing a helmet is mandatory.