De Skeuvel during the Kick-In
De Skeuvel is the student speedskating association of Enschede. The association has more than 200 members who spend the winter together on the ice rink. During the summer, there is inline skating, cycling and dryland training. There is core and strength training throughout the year as well. Besides training, there is also time for socializing at de Skeuvel. For example, once a month there is a drink in Café Friends, there is dinner together once a month during the Social Skate and there is an activity every month, such as mini golf or jumping at the Krazy Kangeroo! Would you like to know more about de Skeuvel? Then visit us during the Kick-In or put yourself on the interest list without obligation! If you are on the interest list, you will receive an email from us with information about the intro training courses in the summer and winter.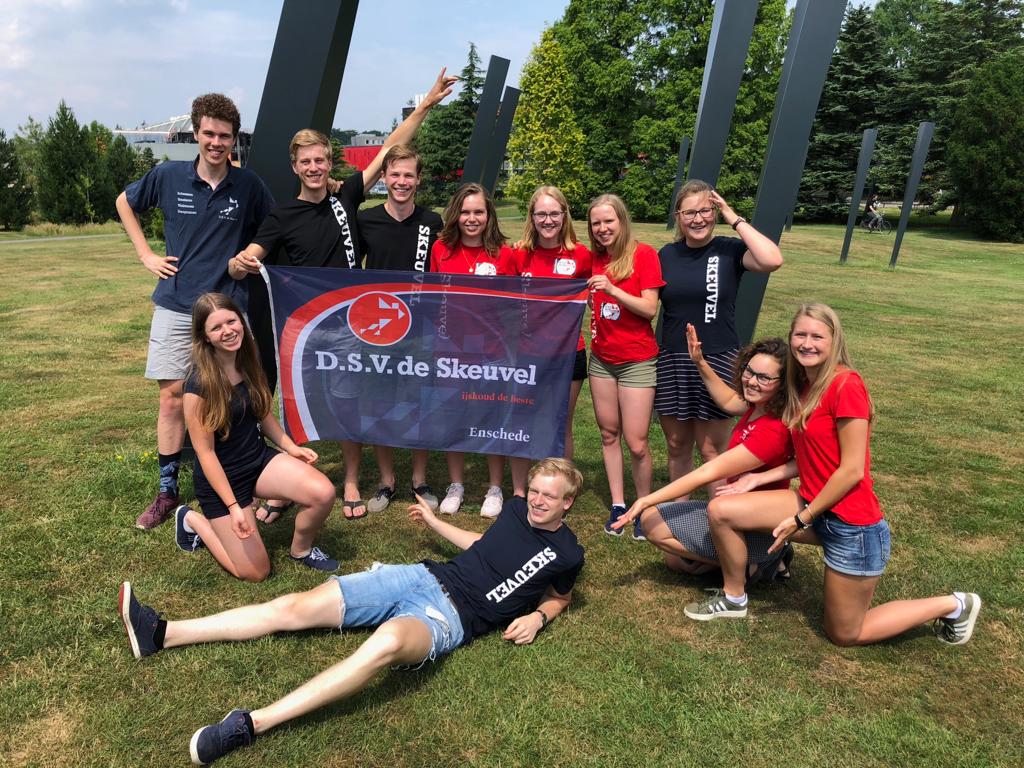 Thursday August 20th
11:00 – 12:00 Campus Tour
Visit de Skeuvel during the Campus Tour! Get more information about the association and have a chat with the board!
12:00 – 15:45 Physical Workshops
Experience skating condition training during our physical workshops! After this workshop you can make skating jumps like the best and you will receive personal tips. Signing up for a workshop must be done in advance and can be done via the Kick-In committee.
14:00 – 16:00 Online Workshops (IntroCloud)
Discover one of our training forms, the skating condition training, from your own room! The link for our workshop can be obtained via the IntroCloud of the Kick-In.
16:00 – 17:00 Online Informationmarket (IntroCloud)
Ask all your questions during our online information market! Discover our committees and meet the board. You come by too, right?
20:00 – 22:00 Pubquiz (IntroCloud)
Take your do-group in the epic pub quiz of various student sports associations and test your knowledge about the different sports!
Friday August 21st
Saturday August 22nd
Sunday August 23th
Dinsdag 25 augustus
Unfortunately, the ice rink is not open yet, but that does not mean that we are sitting still. There are also plenty of training courses to do in the summer. Do you want to train with us? From August 31 to September 10 we have introduction training! If you are interested, send an email to intern@skeuvel.nl
On Monday the 31st of August and the 7th of September the cycling introduction training sessions will be held. The cycling training are given in three different groups, meaning that you can always join a group at your own level. We gather at 18:00 at the Sportscentre . Are you in doubt about your bike or do you want to borrow a bike? Send an email to intern@skeuvel.nl. Wearing a helmet is mandatory during the trainings. It is adviced to wear cycling clothes.
Skating condition training
On Wednesday September 2nd and September 9th the introduction trainings for the skating condition trainings are held. Every Wednesday at 6:00 pm we gather at the stairs in front of the sports center for the skating fitness training. For this training you only need sportswear and nice shoes, wearing running shoes is strongly recommended. Interested? Mail to intern@skeuvel.nl.
On Thursday September 3th and September 10th the introduction trainings for the inline skating will be held. We gather at 19:00 at the Combibaan Hengelo. Do you want to join? Send an email to intern@skeuvel.nl and mention if you want to borrow skates or not. Wearing a helmet is mandatory.
Would you like to train with de Skeuvel during an intro training? Register yourself for the interest list. If there is more information about introduction training, you will receive an email.